The recent demolition of four huge flats at Cochin was celebrated as Kerala's hot news all over the media.

On 8th May 2019 Supreme Court of India ordered to demolish five apartments in Maradu, Cochin for violating Coastal Regulation Zone (CRZ) rules.

Both construction and destruction of these flats shows the hollowness of the Kerala Model  Development
The Kerala Model Development Strategy, Approach and Design have become a complete failure. A misconception has hit the public perception of Kerala that development means a huge construction activity. In Kerala model experiments, we lost 6.5 lakh hectares of farmland.  Hectares of farmland were filled up for the construction of the SIAL airport at Kochi in the name of the so-called 'Kerala model' of development. Today, after two days of monsoon, we see the shutdown of the airport.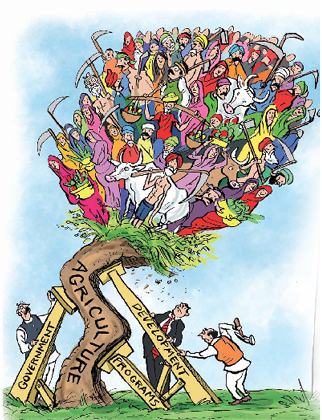 Kerala has many  irrigation projects which are totally unsuccessful. According to the Economic Review Report of the Kerala Planning Board in 2017, there are 4 large irrigation projects in Kerala which have not been completed yet. The projects that were started in 1970-80, such as Moovattupuzha, Idamalayar, Karapuzha, and Banasura Sagar, have not been completed even after the allotted time limit. According to the Economic Review Report, the total money spent for these projects so far is Rs 1823 crore. Government  is planning projects such as Silent Valley and Athirappilly. How much environmental devastation is caused by these projects which are being prepared for us? A river and a hectare of farmland were filled up for airport in Aranmula. The backwaters of Ernakulam and Alappuzha districts are under the grip of encroachers. The backwaters are filled for the convenience of tourists. Huge resorts are booming up in the backwater regions of Kuttanad today. The environmental problems that these constructions create are huge.  According to the report presented in Kerala Assembly by K Raju the Minister for Forest and Environment, 11,917 hectares of forest land has been subjected to encroachment since 1971. In the Munnar region alone, 2700 acres of forest land were subjected to encroachment during this period. The encroachment mafia erected enormous buildings under the cover of fake deeds in total violation of law.
According to a study by the officials of the Kerala Forest Research, there are 5924 quarries in the Western Ghats. Only 700 of them have any form of permissions. According to the study, rock excavation is taking place in 7200 hectares. There are 89 giant quarries in Kerala. Of these, 20 quarries excavate in over twenty hectares. This report should be read in the light of  landslides and breaks that occurred in the Kerala forest region in recent years. These development plans are being prepared without any kind of proper environmental study and inspection.