As a part of the seventy fifth anniversary of Indian Independence, Kesari Weekly, Kozhikode, Kerala organized 'Akshara Ratha Yatra' – a procession from Kanyakumari to Kozhikode. The chariot procession was flagged off by PadmaShri Niveditha Bhide, Vice president of Vivekananda Kendra Kanyakumari.  An idol of Goddes Saraswathi carved out of black granite by sculptors of Kanyakumari was brought under the procession and installed at Kesari Bhavan Kozhikode. Following the installation a nine day long festival of Navaratri with different cultural events starting from October 7 upto October 15 Vijayadashami day with the theme of celebrating womenhood are scheduled.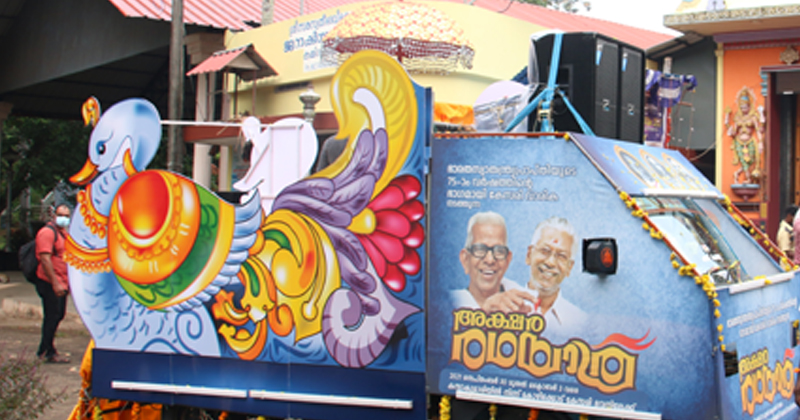 The Akshara Rathayatra received a huge welcome from all corners of the state. The four day procession was welcomed at more than 100 centres in Kerala including major temples and Ashrams. The Yatra also collected a large number of books from different people for the newly built library at Kesari Media Research Centre. Many reputed personalities and scholars irrespective of their political and religious affinities participated in this cultural procession at different centres. On the last day of procession at Pantheerankav in Kozhikode district the yatra was welcomed by Padmashri Ali Manik Fan, a nationalist Muslim and Lakshadweep based marine scientist. He performed Arathi before the Saraswathi idol and offered books to the library.
The images of Ali Manik Fan performng Arathi before the idol created various reactions in social media. The  Islamic Jihadi  fundamentalists started abusing and attacked him online for this act and portrayed the event as nonislamic. Lots of posts appeared against him. As a result of immense pressure from the Jihadis a facebook post appeared from his profile apologizing for participating in the Yatra. He asked sorry to his followers for becoming a part in this cultural program. This indicates a dangerous situation in Kerala.  The abuse on a nationalist Muslim for participating in a  program organized  with respect to the  seventy fifth anniversary of Indian Independence and for collecting books for library is a matter of serious concern. The apology was celebrated by the Islamic media called 'Madhyamam'. Even a muslim who has respect for nationalism and nationalist ideals has to fear the fundamentalists for his existence here in Kerala. This has to be linked with the fact that jihadis were against the isntallation of Mahathma Gandhi's idol in Lakshadweep and also the  idol  at Tirur of Thunchath Ramanujan Ezhuthachan the father of Malayalam Language. The hue and cry of of the Jihadis shows the reality of  converting Kerala into Islamic state and its strong execution.